It has been the craziest most hectic year so far … and it's only the middle of May! It's been one of those times in my life, where everything that can go wrong … will. My hard drive crashed … I lost personal photographs, about half of 2009. This was my fault … I didn't back them up. I thought I had, but when I switched from Aperture to Lightroom, I had exported and edited quite a few from each month, but not all of them (and believe me, I had lots of great shots waiting to be touched up). 🙁 They are lost … probably lost forever, unless Drive Savers can recover them … which involves a LOT of money. :/ I spent a lot of time running around like a chicken with it's head cut off trying to see if the files could be saved, with no luck. My next mission — find a way to have the hard drive replaced without Apple taking the old one away. Thanks to a very, very nice woman named Suzie, I was able to do so (thank you!). At least now I have the chance to save my files.
After that, things started to calm down (or so I thought). During a self breast exam, I found something abnormal … and it scared the daylights out of me! I phoned a friend in the middle of the night because I couldn't breathe … she talked me down, but it's one of those things that you think "Oh, that won't happen to me …" and yet there I was … sitting in the dark … snot crying through the phone … wondering if I was going to die.
I immediately made an appointment with my doctor, to which I was told … "Hmm, I'm not quite sure, so I'm going to send you for an ultrasound, and to speak with the general surgeon, but I'm not too worried." Well, that wasn't that refreshing. I was able to get in for an ultrasound the day before my birthday, May 10th. That was a week … an entire week that I had to wait … with those scary thoughts in the back of my head … wondering if I was going to be alright. Someone was on my side, because that week FLEW by! Up to Visalia I went, to the Sequoia Breast Center, to be ultrasounded (yes, that's not a word, I know). If that wasn't the most awkward thing ever … lol Of course, I couldn't be told anything … that would be far too easy. Another week of waiting … or would I? I got a call from the surgeon's office with an appointment for that Wednesday … and they would rush my results. I felt this huge weigh lifted off … I was really, really looking forward to having this all settled. Wednesday rolled around … 1.5 hours before my appointment, they cancel … messed up schedule, no time, etc., we'll schedule you for Monday.
More waiting, of course. I decided to not let it get to me … whatever it was, if anything, I would cross that bridge when I got there. The littles and I made plans to go ice skating at Gateway Ice Center with friends over the weekend, which completely took my mind off of everything. It was the first time I had ever taken the girls … so I was a bit nervous … and excited. We laced up and hit the ice … and then Rhy fell. We went back up to the counter, and they gave Rhy this little walker thing to help balance and move about the ice … looked like a granny walker. Rob used Uncle Toney for balance. 🙂 I was sooooo impressed with her ability to stay up, it being her first time and all! She was so cute … clinging to Uncle Toney for dear life, and he just let her … so sweet. He took her around the rink so many times I lost count … then was letting her go, and directing her to go to him, telling her how to move … and she did it! She would go from him to me, me to him … haha … so proud of her. By the time we left she was a ninja on ice!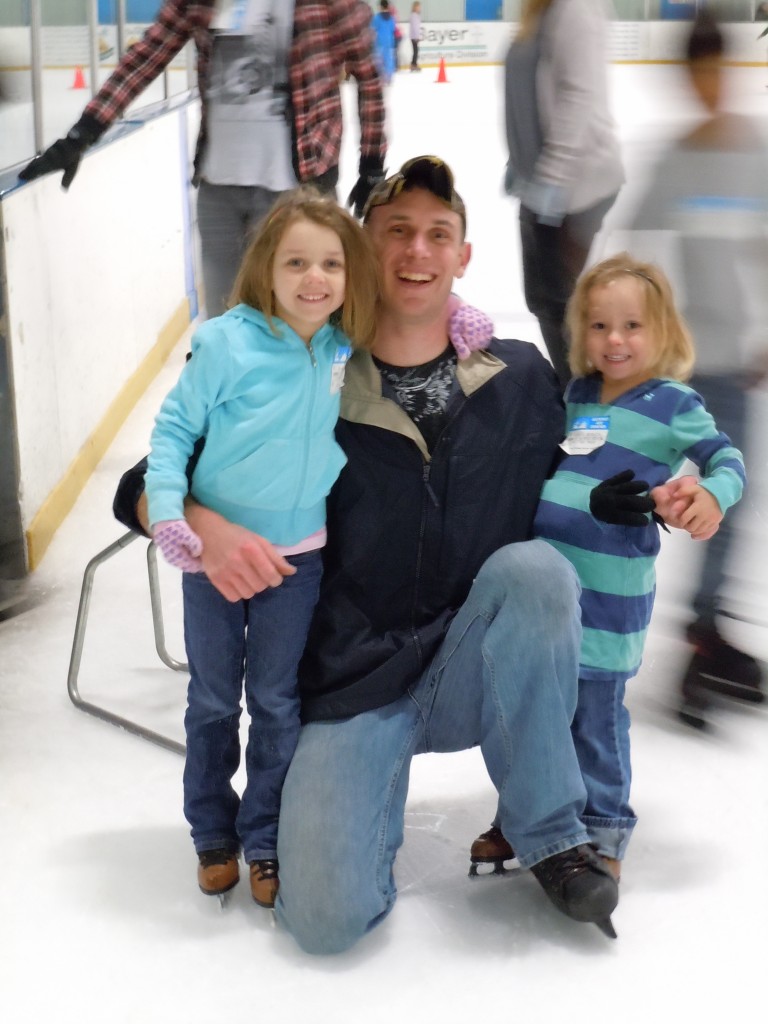 That weekend really helped to clear my head … just living and loving and being.
The next day was hard … waiting rooms are the worst, aren't they?? Up to the surgeon I went, alone … did I mention my husband was deployed throughout all of this ordeal?? Ugh. I met with the surgeon … and when I left, he gave me the all clear. Thank GOD. I walked to the parking lot, got in my car, hit my head on the steering wheel … and just cried. I balled my head off, then went to pick up my littles and squeezed them as tight as I could.
So much worry for something I had no control over. I really should have tried to hand it all over to God … but then I probably wouldn't be me.
To the people who helped me get through that incredibly frightening time in my life, I love you. You're the best. I'm not sure I could've functioned without each and every one of you.
Jaime