Hi, friends!
I sat down the other day, chatting with my girls about Christmas, and I asked them which they liked more … giving or receiving. They both responded without hesitation … giving, and my heart swelled. When I asked why, they told me it makes them feel good to see others happy … the look on another person's face when they open whatever they were given just gives them all the feels. They love to bring joy to others … and the look on my little's faces when they give something to someone completely melts me … into a huge puddle of emotion. I don't know about all of you, but when I give … it sure does make me FEEL … good … alive … purposeful … happy …
One of my absolute favourite things about my job is that I get to document families simply being … living … loving … enjoying life … making memories with one another. It brings me such joy, knowing that I've given them a tangible moment in time, that they can now revisit over and over again. As I've said before, I wish I had more of that in my own albums … more of me … living life … in the frame … with my littles. So many of us, mums and dads alike, are behind the lens … look in your albums … are you there (and I'm not talking "self portraits" taken with your phones)? And so I thought, wouldn't that be an amazing gift? To give a family the gift of memories made with their children?
The Big Tuesday Give was born that day, and I racked my brains trying to think of how to do it … Do I have nominations or have them fill out an entry form? Do I pick randomly or do I read stories and choose what touches my soul? Do I pick just one? And then … I realized, I can do a combination of it all … and better yet, I can do it annually! I decided to make this giveaway an annual tradition that begins the Tuesday after Thanksgiving, running through December 20th. There are 4 days in-between … so we girls decided there should be 4 winners. 1 simply wasn't enough. 😉 <3
There were 18 entries this year … so many people I've never even met, from across the United States, poured their hearts out to me and some of my past clients shared things I never knew about them … they all touched my soul. Some of the stories must have been very difficult to share, and to be honest, were some of my worst fears in life … I'm sure tears were shed as they wrote them down. There were far too many stories of struggle and loss, but along with that I felt an incredible strength and perseverance in them. You guys gave me chills … and, I was basically sobbing as I read through them all. I am SO glad that I did the giveaway this way, as it gave me a chance to truly connect on some level with those who entered. To all of you brave souls who shared your stories and words and hearts with me, thank you. My heart is so full of gratitude and love for each and every one of you. 😘
Without further adieu, the FOUR winners are listed out below — I'll be contacting each of you shortly, with additional information. Congratulations to each and every one of you! I am sooooooo crazy excited to meet you, and document your beautiful families! <3
ALSO — for those of you who didn't win a session this time around, please don't let that stop you from booking one! I would LOVE to document your family, be it for a couple hours, a half day, or a full day! I'm offering ALL of you a discount (noted below) on one of my docustyle sessions for 2017, so long as your session is booked & a $159 deposit is made by January 31st — dates can be decided now or later on down the road. FYI — payment plans are typically arranged for the bigger sessions. 😘
FULL docustyle | $250 off
HALF docustyle | $150 off
SIMPLE docustyle | $50 off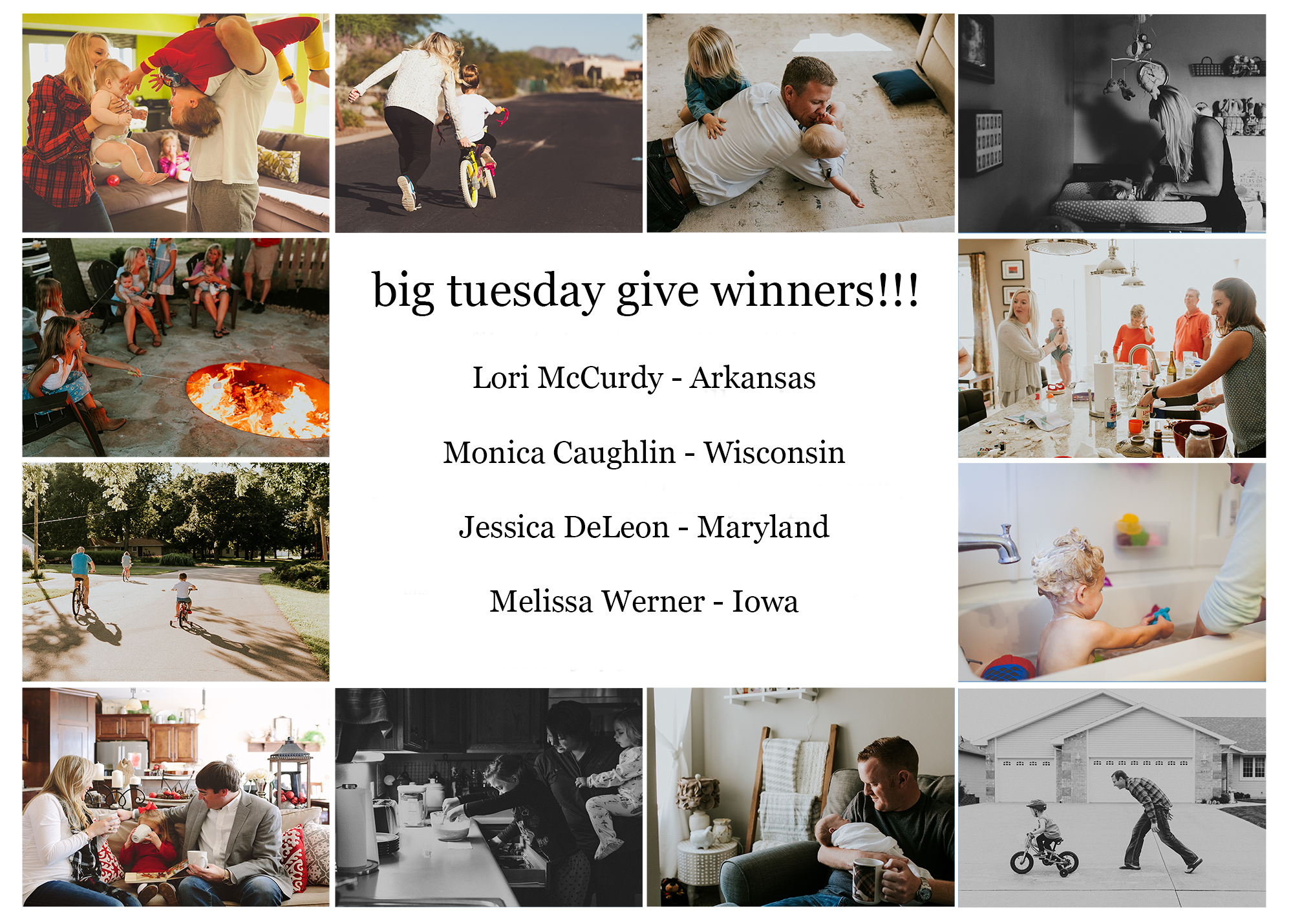 I cannot wait to do this again next year — till then …
Cheers!
Jaime
😘😘😘😘